Master Bedroom

Most of the furniture is plastic that I "antiqued".  I made the bed and the chair.  The accesories on the vanity and chest of drawers are tiny beads. 

Girl's Bedroom

The bed and vanity are plastic that I enhanced with a little paint and fingernail  decals.  The shelf to the right of the bed is made from painted paper as is the mini dollhouse.  I also made the chair and toybox.

Bathroom

The fixtures were plain white plastic so I added a little paint and fingernail decals.  The two shelves and the screen in the back left corner are made from paper.  The white, blurry thing in the front is a towel stand with towel.  The lights are made from beads.

Living Room

The desk and grandfather clock are plastic that I painted.  I made the rest of the furniure as well as the red lamp.  The painting is from a Christmas card.

Dining Room

The table and chairs are plastic but the hutch and side table are made from paper.  The vase on the table is a bead and the hanging lamp is a bead in a jewelry finding.  The two wall hangings were cut from mini wallpaper and the mirror is silver paper framed with gold painted paper.

Kitchen

All of the furniture and the appliances are plastic that I antiqued.  The copper pots on the stove (hard to see) are jewlery findings and the ceiling light is a bead in a bead cap.  The painting was cut from mini wallpaper.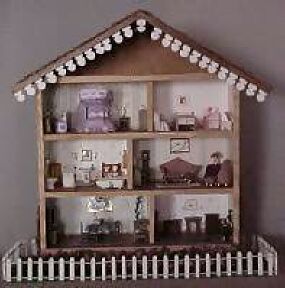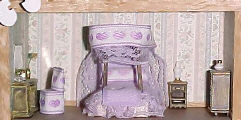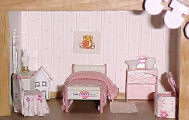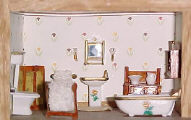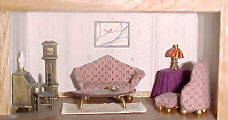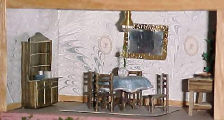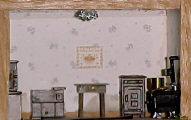 Click on any image for a larger view.