Master Bedroom

This is the only room that is not removeable.  The furniture was purchased.  I made the lamps, flowers and vanity accessories.  The wall hanging above the bed says "Home Sweet Home".

Bathroom

This is one of my favorites.  The shower was purchased at a Good Sam show as a "second" and the rest of the fixtures were a gift from a niece.  I made everything else.  The "marble" floor is made from  squares cut from a tissue box.  They have since discontinued the pattern.  Had I known, I would have bought a bunch!

Baby's Room

This is purchased furniture that I customized with Pooh cutouts.  I made the hanging shelf and the lamp.  The little Pooh on the shelf is from an earring.

Teenager's Bedroom

Another of my favorites.  I made all of the furniture

except the chair which I changed to match the decor.  I also made the plant, stereo and computer.  The KSJO sticker with a clock in the "O" was contributed by my son Rob.  The hanging lamps are made from ping pong balls and the  houndstooth material is from a wooly scarf.

Deck

The background scenery is a page from a calender.  The chairs were made from those "no spot" dishwaher containers.  I also made the plant and the flowers in the window box (barely visable at the far right just above the deck rail).

Living Room

I made everything in this room except the mirrors and the little bell.  The cups on the coffee table say Marie and Samantha - a gift from a good friend.  Of course, Samantha's is full of hot chocolate.

Kitchen

Believe it or not - all of the cupboards and the built- in appliances are made from mat board and other kinds of paper.  I made the coffee pot, tea pot and plant.  The refrigerator is a purchased item changed to look like a side-by-side model.

Laundry Room

This washer and dryer are made from foam core.  I used an embossing tool to add details and glued on photo copies of the control panels.  I also made the ironing board.  The wall hanging above the window is a copy of one given to me by my son Mike.  It has hanged in my laundry room for about the last twenty years.  It says "Wanted Housekeeper - Room, Board and Fringe Benefits".

Dining Room

This furniture was purchased.  I made the flowers and plants.  The mini house was a Michael's find and the chandelier is made from a fish hook and beads.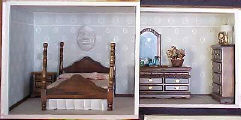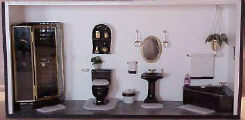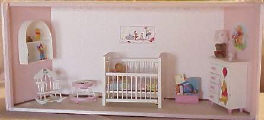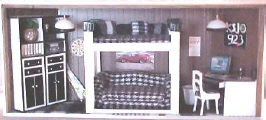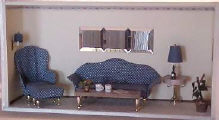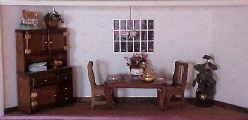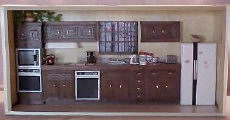 Click on any image to see a larger view.